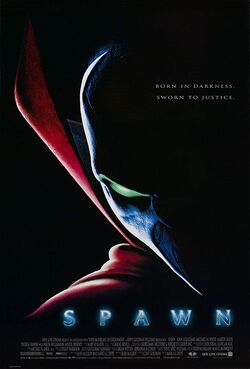 Spawn is the 1997 Action Superhero movie and the first live action Spawn film based on the character of the same name.
Cast
[
]
The premise of the movie is similar to the initial storyline of the original comics. Al Simmons, a military soldier/assassin, has been betrayed by a covert government agency head named Jason Wynn. Wynn orders his top assassin Priest to assassinate him. After Simmons dies, he is immediately transported to Hell, where Malebolgia, a demonic ruler of the various realms, offers him a Faustian deal. If Simmons becomes his eternal servant and leader of Hell's army in Armageddon, he will be able to return to Earth to see his beloved wife, Wanda Blake. Simmons accepts the offer and is transformed into a Hellspawn, which is a servant of Malebolgia in a necroplasm suit that is not only a living, breathing creature, but is also his only protection in the world.
Once he returns to the land of the living, Simmons learns that five years had passed. Wanda is now remarried to his best friend Terry and living the life he had always longed for, including the daughter he never knew, Cyan. Along his journey in this new life, he encounters a strange clown-like demon called Violator, who acts as a guide to put Spawn (as Violator calls Simmons) on the path to evil, and a mysterious old man named Cogliostro, who, as a fellow Hellspawn, teaches Al how to control his energy, which is very sparse. Jason Wynn is now a high-class weapons dealer rather than a government bureaucrat. He is also the ultimate target of the Spawn, who doesn't realize that by killing Wynn, he will create the sign that will launch Armageddon. After not killing Wynn, a final battle ensues between Spawn and a transformed Violator, ending with the villain going back to Hell and his reputation is ruined, thanks to his mission failed and Spawn revealing himself to Wanda, Terry, and Cyan before Wynn goes to prison after the bomb inside him is destroyed, having Spawn dedicate himself to justice.
Cast
[
]
Difference from comics
[
]
Although the film was based on the comic book series, some details were changed for the theatrical version of Spawn. Terry Fitzgerald, Al Simmon's best friend in his former life and a black man in the comic, was played by D. B. Sweeney, a white man, in the film. McFarlane has explained that this was done by the studio to avoid having too many African-American leads and creating a perception the film was aimed at an African-American target audience.
It is also revealed in the film that Jessica Priest, a white woman, was Al Simmons's murderer. In the comic book series, however, Al Simmon's murderer was originally Chapel, a black male character originally created by Rob Liefeld for the comic

Youngblood

. However, due to the eventual severing of professional ties between Liefeld and McFarlane, the story may have been altered for the purposes of the film. Chapel remained in the Spawn television series, which premiered on HBO months before the film was released. Additionally, it was later revealed in the comic book series, in a case of questionable retcon, that Jessica Priest was indeed Al Simmons's murderer afterall.
Trivia
[
]
Roger Ebert was perhaps the film's biggest advocate, awarding it 3½ out of 4 stars. However, on his television show, his co-host (at the time), Gene Siskel, said the film lost him a mere 2 minutes after its introduction. The two had a rather heated debate over the film onscreen.
There are two versions of the film, the PG-13 version and the R-rated Director's Cut. The Director's Cut is available on DVD with special features such as commentary, a "Making of Spawn" feature, a Spawn sketch gallery, the original trailer, a preview of "Spawn: The Animated Series" and the music video for Filter and The Crystal Method's "Can't You Trip Like I Do". A HD DVD and Blu-ray Disc 10th Anniversary Collectors Edition Version of the first film is planned to be released later this year [1] [2].
At a government-hosted gala early on in the film, a red-headed woman briefly walks by who is wearing earrings with the Spawn comic book logo. This cameo, albeit brief, is generally considered to be a nod to the angelic Spawn-hunter Angela. Despite her popularity in the comic series, she may have been absent from the film because of ongoing legal disputes between Spawn creator Todd McFarlane and Neil Gaiman, who was hired as a guest writer for Angela's debut issue, Spawn #9.
Spawn creator Todd McFarlane makes a cameo credited as Bum.
Links and References
[
]
Template:Imdb title

Template:Rotten-tomatoes

Template:Mojo title