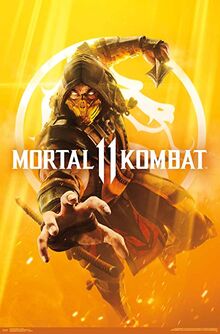 Mortal Kombat 11 is the 11th entry in the Mortal Kombat series, developed by NetherRealm Studios. The franchise is known for over-the-top blood and gore. It was released on April 23rd, 2019 on all major platforms.
Spawn was included as a DLC character in March of 2020, voiced by Keith David of the HBO animated series.
Gameplay
[
]
NetherRealm Studios is also known for having developed the Injustice series, which frequently uses DLC guest stars. Spawn's gameplay is currently unknown, it is presumed he will have most of his K7-Leetha abilities and Necroplasm.
Premise
[
]
Mortal Kombat is a mystical tournament held to decide the fate of Earth. Warriors from various realms participate. How Spawn arrives here from his reality is a mystery, Netherealm being quite different from the Hell of Spawn's universe.
Gallery
[
]
Promotional material
[
]
Videos
[
]