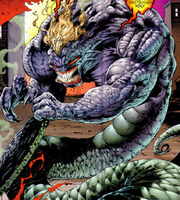 "I'm a gentleman, detective. A very old gentleman." - John Sansker
Biography
Edit
John Sansker makes his first appearance in the Spawn Blood Feud mini-series. He is called in by the NYPD to assist in the hunting and 'disposal' of Spawn. Throughout the series, it is revealed that John is actually a vampirical snake-like creature himself, and has killed numerous creatures including Lamias and Werewolves. As for people, he is responsible for killing both Flynn and Ramirez when confronted.
John Sansker was born Jean de St. Claire in the year 1082. Later, in revolutionary France, he was called Jean Sans-Coeur (meaning "Heartless John"). He lived through the centuries, hunting and killing the abominations that plagued the world.
Community content is available under
CC-BY-SA
unless otherwise noted.