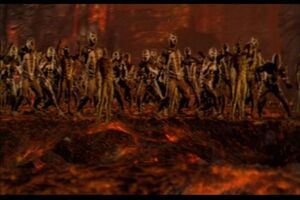 In the Spawn universe, hell is home to the demons, notably Violator, and Malebolgia. Al Simmons was sent to hell after his death where he made a deal with Malebolgia to come back as a hellspawn to lead hell's army to earth upon Armageddon on the condition he can see his wife, Wanda Blake one last time.
Hell supposedly has 12 "spheres".
8. Hellspawn training ground. [6]
9. Unknown. [7]
10. Unknown. [8]
11. Unknown.
12. Supposedly the realm of the powerful demon lord Phlegethonyarre  who made Daniel Llanso  a Hellspawn.
Community content is available under
CC-BY-SA
unless otherwise noted.